Skip to Content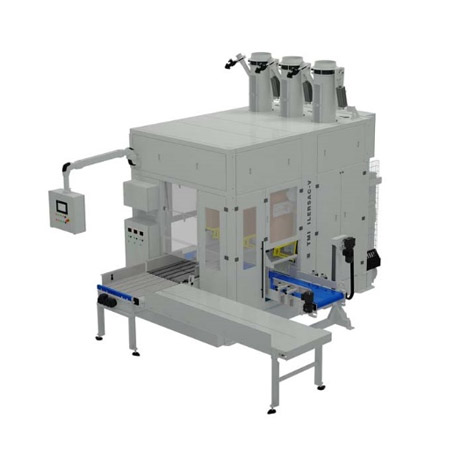 ILERSAC VBF ROBOSONIC
Automatic gross weight bagging machine by fluidization, for powdery and low granulometry products into valve bags
Output
Up to 600 bags/hour
Product Type
Powdered and low granularity
Type of Bag
Paper valve bags
Automation Level
Automatic
Benefits
The automatic valve bagging machine ILERSAC VBF ROBOSONIC provides a…
Process of filling valve bags that is fully automated: With the aid of the automatic bag feeding arm and the recipe configuration, the entire operation, from bag pick up and filling through to evacuation and closing, happens automatically within this machine.
Process that is highly autonomous: The ILERSAC VBF ROBOSONIC has a single, high-capacity magazine for empty bags, which can be refilled without stopping the machine.
Process that is flexible:  This bagging machine allows for various recipes and adjustments, ensuring that each valve bag is optimally filled.
Process that optimizes the bagging of powdery products: The ILERSAC VBF ROBOSONIC has a fluidization dosing system, which uses the force of air to push product into valve bags in a sustained flow, until bag is optimally filled.
Process allowing consistent heterogeneous mixing: This bagging machine avoids segregating heterogeneous products through its multi-fluidization options.  It can easily maintain the distribution of different product components inside the bag.
Machine that is compact: The ILERSAC VBF ROBOSONIC has a single pickup point for bags and an anthropomorphic robot, which allow for more compact configurations.
Process that is dust free: This machine easily bags powdery products while maintaining a dust-free environment, as a result of it's surrounding chassis.
Process that assures quality control: The ILERSAC VBF ROBOSONIC is able to maintain high quality standards, especially in the food, chemical and construction industries, through ultrasonic sealing for valve bags.
Process that is adaptable for industries with high standards: The ILERSAC VBF ROBOSONIC is easily configured to meet the requirements of industries with strict hygiene standards, such as the food and chemical industries.
Machine that is easily cleaned: This bagging machine can be fitted with a variety of elements, such as semi-automatic systems for opening pressurization chambers or lower sweepers (which can be attached to collection systems) that can expedite cleaning during product changes.